Cycling through the Baltics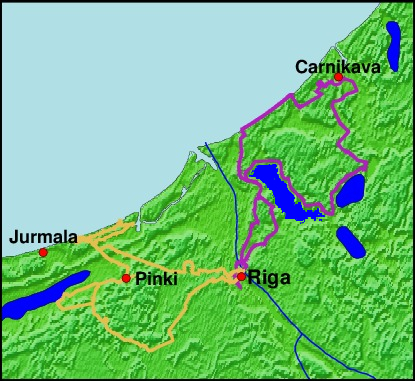 Riga's beaches
Riga. Riga is the captial of Latvia. With a population of 700.000, it is the biggest city of the Baltic region. Riga is known for its high density of Art Nouveau buildings and its well preserved historic city center. Huge parcs surround the city center.
By bike, the go-to place from Riga is the seaside. Riga's city center is located on the underflow of the Daugava river. North and south-west of its estuary, long sandy beaches strech along the coastline. They are about 20 km from Riga's center. To the west, a new bike line leads out of the city center directly to the sea side. Following the railways, it leads first through Riga's suburbs and then through forests to Jūrmala,
Main road of Majori, Jūrmala. Latvia's best known beach resort. It is especially popular among Russian tourists. The beach extends for about 40 km and can seem endless. The wide stretch of fine sand is limited by dunes on which pine trees grow. Behind, the area is almost completely constructed. Huge new holiday homes stand next to older, more traditional wood houses. To the inland, Jūrmala is limited by lakes and bog land. A single bridge connects the beach town with Riga. Every couple of a hundred meters, the beach can be accessed on wooden pathways through the dunes.
Beach in Jūrmala.
It is possible to ride a bike on the streets leading through the settlements or to ride directly along the seaside. Riding on the sand is very popular. It is easiest on a small stripe directly along the waves, where the sand is sufficently wet and dense to prevent the tyres from sinking. Nonetheless, the resistance of the sand is higher than on a street, and, once the novelity wears of, can make the ride along the beach more bothersome than fun.
Going North, it is best to go through the leisure area around Riga's Zoo. Signs indicate the way. When in doubt, it is best to follow the street with the cycling path. Passing the Modern Art buildings close to the city center,
Lakes near Riga. the way leads through suburbs to the Parcs surrounding the zoo. Walkers, cyclists, and skaters find pathways away from traffic. At the exit of the parc, cycling lines along the street lead to the beach. Just like West of Riga, forested dunes stand between constructed areas and the sandy beaches. Though the beach is just as lively on warm summer days as the beach of Jūrmala, the houses don't share quite the same glamour. Here the indicated interregional cycling route also leads over the beach.
| | |
| --- | --- |
| Townhouse in Riga. | City center of Riga. |
| City center of Riga. | New library in Riga. |
| Beach in Jūrmala. | Cycling path on the beach North of Riga. |
| Art Nouveau building. | Back country of Jūrmala. |
| Bog land West of Riga. | Promenade along the Daugava. |